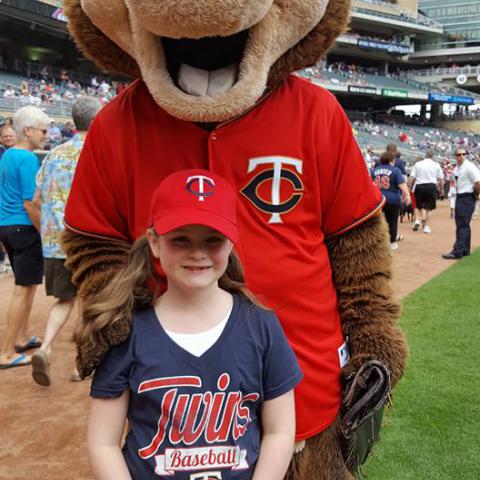 Not only did Tatum Stewart's 10 month old life change the day she took a bite of birthday cake, at a friend's party, so did her family's. "We could not stop her vomiting, so we took her to ER where they gave her epinephrine," explained Stewart's mother, Brandi Stewart. Their lives were changed forever by an invisible disease that can strike anyone at any age. This potentially fatal disease effects one in thirteen school-aged children nationwide and more than 15 million people nationwide.
Stewart was an infant when she experienced her first life-threatening food allergic reaction.  She has grown up being allergic to dairy, egg, peanut, soy, rye and citrus and thus does not know what an omelet or peanut butter and jelly sandwich taste like. In many ways, her life of label reading and learning to avoid her allergens is her norm. For her older sibling and parents, who do not have food allergies, normal was instantly changed. Rather than preparing two meals for the family and to protect their child, they chose to remove all of Stewart's allergens from the home and eat the same. Her mom shared, "it was difficult telling my older child she couldn't go to Dairy Queen and get a treat or to have certain foods she was used to."
This year, Stewart serves as the Youth Ambassador for the annual Food Allergy Awareness Walk & 5K, sponsored by the Anaphylaxis and Food Allergy Association of Minnesota (AFAA), to be held at Como Regional Park in St. Paul on May 14, 2016. She invites you to join her, other ambassadors and royalty to register for the walk. Everyone will enjoy a stroll or run through the park plus music, exhibitors, face-painting, allergen friendly refreshments, and the opportunity to take photos with the popular costumed Major Allergens and St. Paul Saints Baseball mascot Mudonna.
Managing food allergies is challenging since 7-year old Stewart often feels like an outcast in group settings. Younger children often don't understand why they can't bring peanut butter crackers for snack time and direct their frustration at the child with food allergies.
"Tatum tries to tell people who get upset that it is not her fault she has food allergies because she was born with them. She didn't decide she wanted food allergies just like some kids don't decide to have red hair." Brandi Stewart's hope for her second-grade daughter "is not that she necessarily outgrows her food allergies, but that she can be an advocate to help educate people on the severity of the disease and importance of recognizing food allergies are a real thing and should be taken into consideration. Stewart has a tremendous mentor in her mother, who has been the AFAA Walk chair for two years and works tirelessly to raise awareness.
Stewart is clear about what she wants the people of Minnesota to know, "kids with food allergies are no different than kids without food allergies. People should not treat them differently."
Written by Caroline Moassessi